How To: Edit Jobs After You've Booked Them
This article will explain how to edit a job – like changing the destination or parcel type, adding any notes or special requirements, or deleting a job – after you have finished booking one or several jobs.
Editing a job is done through the 'Jobs' section, found via the menu on the left. That'll take you to a page that'll look like this:
This page lists every job you have booked. As you can see, there's a Runner column (detailing the current status of the Runner), a title column, a column detailing the pick-up and drop-off destinations, the price of the job(s) and the delivery window. By default, the jobs will be listed with the most recently booked job at the top.
To view the specific details of any job, click on the eye icon on the far right of the 'Jobs' page. If you want to delete a job*, click the delete icon next to eye. For now, let's view the specific details.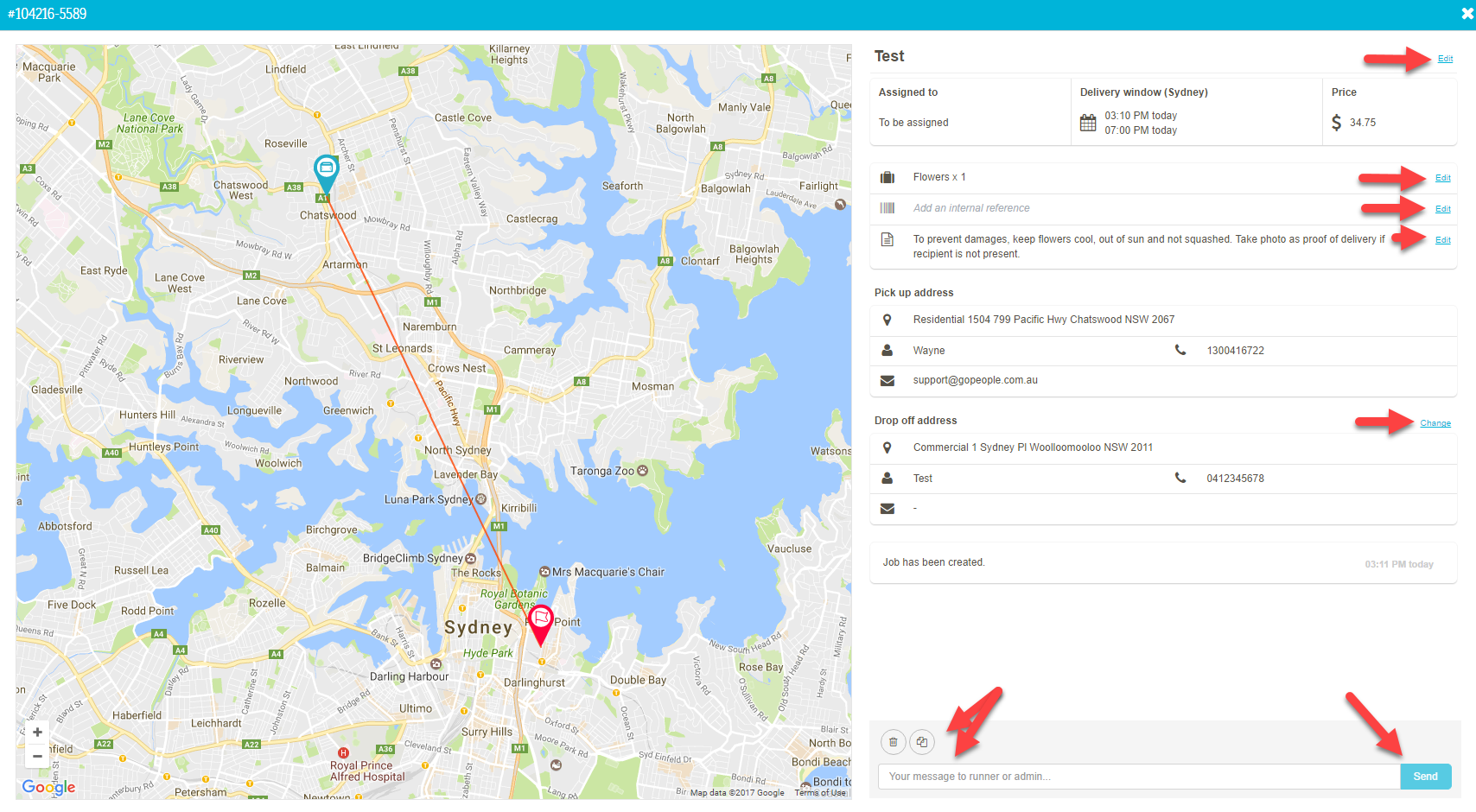 As you can see, there's plenty of details you can change. At the bottom, note that there's an option to delete or duplicate the job. You can also add a message for your Runner, or Go People, down the bottom.
There are some details you can't change: Delivery Window; Service type; and Parcel type. If you wish to change these details, you unfortunately must delete this job and make another booking.
Let's say you want to change the drop off destination. We'll change the destination to 1 Anzac Parade. This will change the information on the map as well.

Once you make the changes, you're all done.
Note: if you change the address, the price will most likely change. Two things will happen:
If a Runner has been assigned to the job, you will be charged a redelivery fee.

If a Runner hasn't been assigned, you will charged or refunded the difference between the old and new price.
*if you delete a job, and a Runner has been assigned, there is a cancellation fee of $11.
Nick Hartman is the Marketing and Communications Manager for Go People. The prospect of seamless, same day deliveries excites him and he hopes Go People will one day achieve that. Outside of making the delivery world a better place, you can often see him down at the SCG taking high class photos for his Instagram page.