How To GoSHIFT: Create a Shift
Creating A Shift
First of all, open your account. Halfway down the menu on the left, there's "Shifts". Open up that option.
On the top right, there will be a big white button that says '+ Create A Shift'. Click on that.
(This page will also display any GoSHIFTs you've previously booked.)
1. Starting Address
Like a regular delivery, confirm your personal or business's details.
You can click on 'Stores and address book', and select a previously-entered address from there, to save you time.
When you're ready, click on 'Next' to move on.
2. Parcel Type
You'll then navigate to the 'Parcel type' subpage.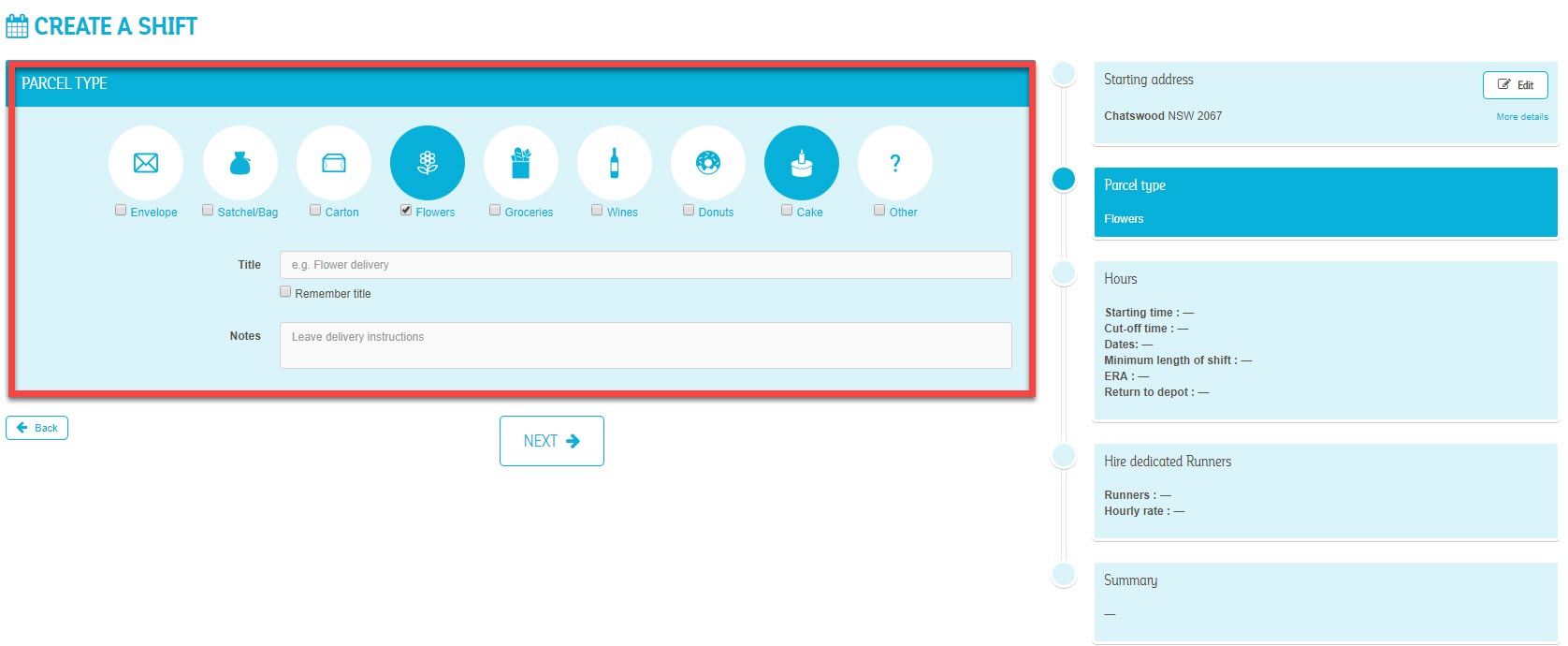 Again, it's a matter of just filling in basic information. Check what type or types of item you're planning on sending, and then give the Shift a name (we've called it "Test" for now) as well as any notes or extra details you have on the delivery.
Once you're happy with the information, you'll move onto the 'Hours' subpage.
3. Hours
Here, first of all select when you want the Shift to start.
Keep in mind, that the order cut-off time (i.e. the latest you can add orders to that Shift) will be 15 minutes before the start time. The only exception to this is when you book a Shift with a starting time before 9am; in this case, the cut-off time will be no later than 5pm the day before.
You can choose multiple dates if you wish. If you do so, the Shift's details will be replicated on all the dates you select.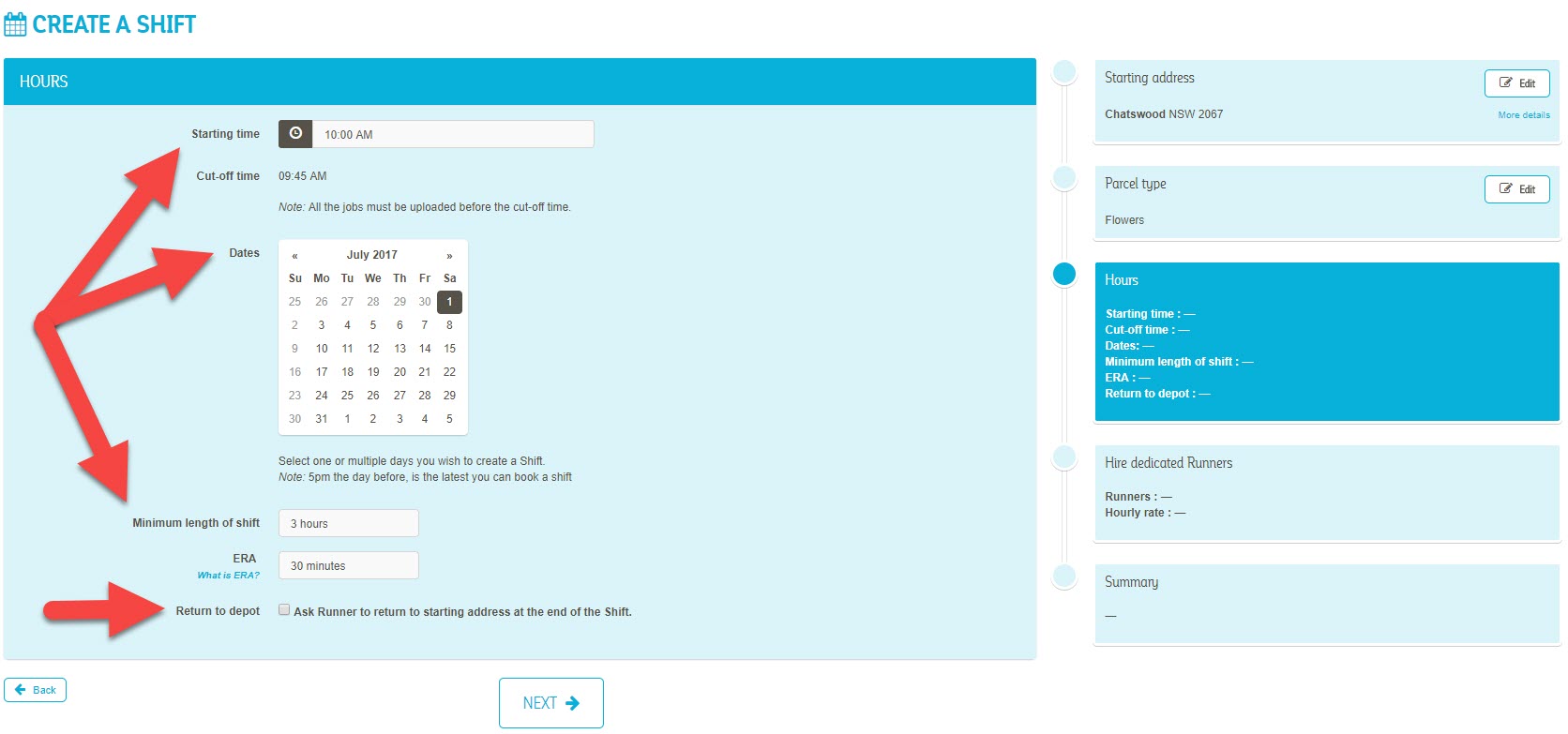 Below that, there'll be a box for 'Minimum length of shift' and 'ERA'.
As Senders must book a Shift for a minimum of 3 hours, the default value here will be 3 hours. Even if you need a Shift for only 1 or 2 hours, Senders will be charged for 3 hours.
How many hours you need a Shift for, is something Senders will have to decide. If, say, a Sender books a Shift for 3 hours but the job(s) require 5 hours to complete a Sender will then have to book another Shift, or a GoSAMEDAY or GoNOW Runner, to take on the extra workload.
As the length of a shift only comes in increments of an hour, Senders can also adjust the length of the Excess Runner Allocation (ERA).
The ERA, in short, functions as a pre-payment of overtime to the Runner in case the jobs overflow. So, if the Shift has been booked for 3 hours but there's 15 minutes of extra work, the ERA will cover for that. Furthermore, Senders will be reimbursed for any unspent ERA.
When that's all done, click 'Next' and you'll move onto the Summary, where all your information will be displayed again.
NOTE:
You can only book a Shift before 5pm the previous day
It is recommended you book a Shift in advance as early as possible, to ensure Runners are given as much notice as possible.
You cannot book Shift on Sundays (…yet)
The minimum shift length is 3 hours (to possibly change in the future)
4. Hire Runners
Now we'll move onto entering your requirements when it comes to Runners. You can click on the "Skip" link button if you are unsure how many Runners to hire and hire later.
Inputting some of these details is straightforward, while a few things need a bit of explanation.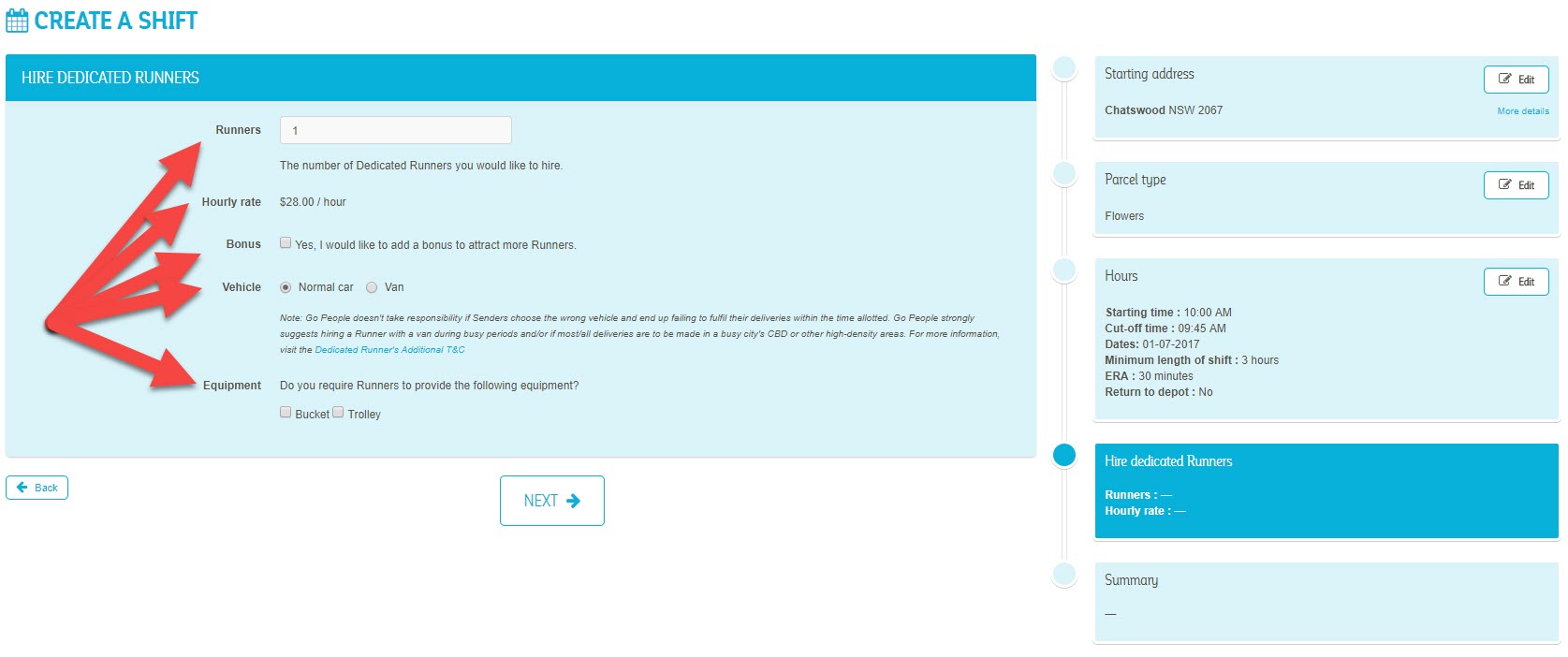 a) Runners
You know your business best, so choose the amount of Runners you think you might need to hire for your Shift.
b) Hourly Rates
Go People offers different rates depending on when the shifts take place.  While mornings come at a rate of $28 p/h, afternoons and evenings are $33 p/h. During special occasions, such as Valentine's Day or the lead-up to Christmas, Go People will charge higher rates.
Depending on the time of the shift, the rates will be automatically adjusted.
This Shift's a morning Shift, hence $28 p/h.
c) Bonuses
If you want to, you can also give your Runner a Bonus. If Senders want to incentivise a Runner, perhaps because it's a special occasion or a busy period of the year, adding a Bonus is advisable.
d) Vehicle
In this section, choose what vehicle you'll need or prefer to transport goods during the shift. Different vehicles come with different rates (again, these rates are automatically adjusted).
NOTE: It is advised that if you anticipate a busy shift, or have a business located in a CBD or other dense area, that you choose 'Van'. Go People takes no responsibility if clients choose a vehicular option that fails to have the physical capacity to complete the assigned task within the timeframe of the shift.
e) Equipment
Tick the relevant box(es) of the equipment you'd like the Runner to provide for the duration of the Shift, and add any notes or detailed information in the Notes section.
The fee for services is then displayed, and this obviously changes according to your requirements.
5. Summary
This page will display all the information you've put in, and the calculated price below.
If you wish to change any information you've entered, either click on the 'Edit' buttons or the 'Back' button.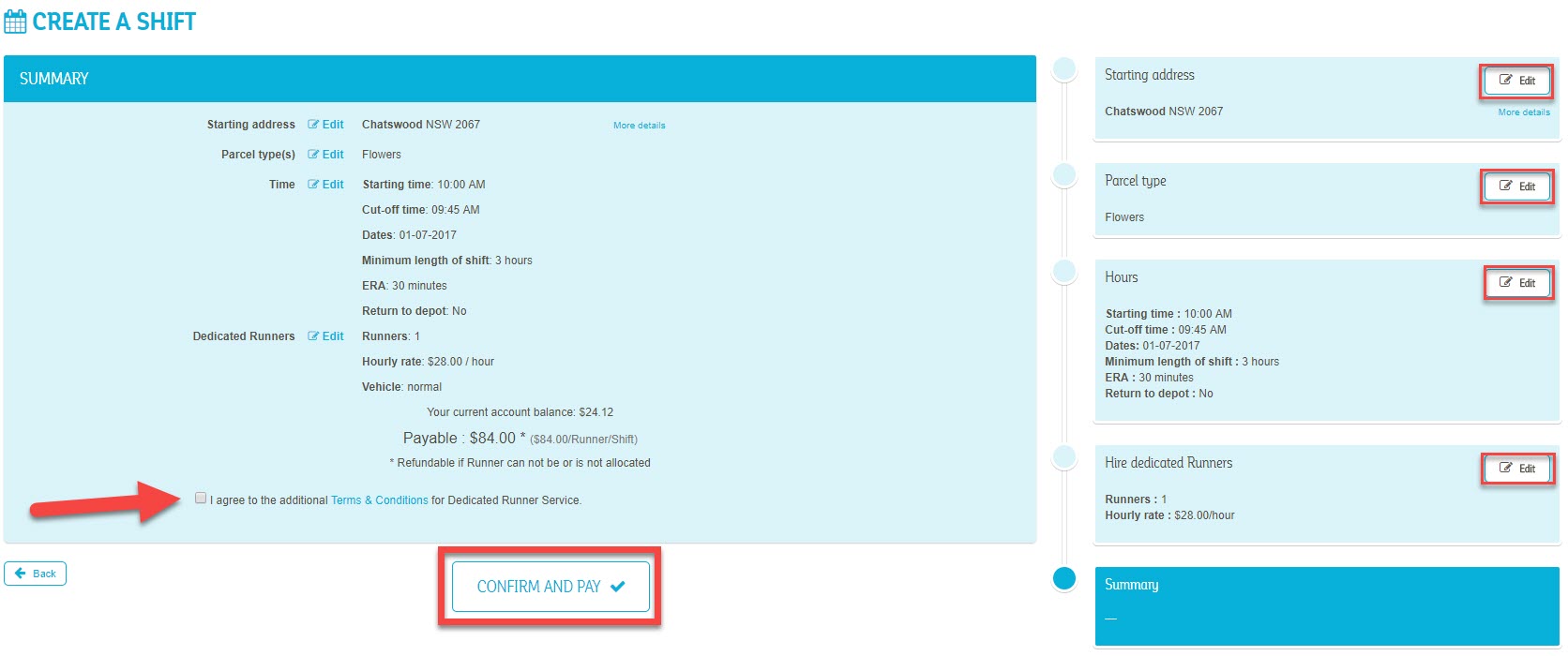 Once you're happy with all the information, click 'Confirm And Pay'.
You're All Done!
You'll now return to the Shift page, with your shift booked and waiting to be assigned a Runner:

On the left is the calendar; it will now display the dates on which you've booked your shift. Also notice all the details of your shift (to look at them all, click on the pie graph icon on the right).
As this shift has just been created, a Runner has not been assigned. Once you book a shift, considering how much notice has been given and how busy our Runners are, a Runner will be assigned in a short while.
(For more information on how you will be notified about your assigned Runners, visit the relevant subheading of the GoSHIFT Knowledge Base article.)
On the right, there's a copy icon. Clicking this button will duplicate a shift, which makes up the next part of this guide. If you don't want to duplicate your shift, there's no need to read on.
Duplicating A Shift
If you wish to duplicate shifts, click on the copy icon (the two sheets). This will open a new window: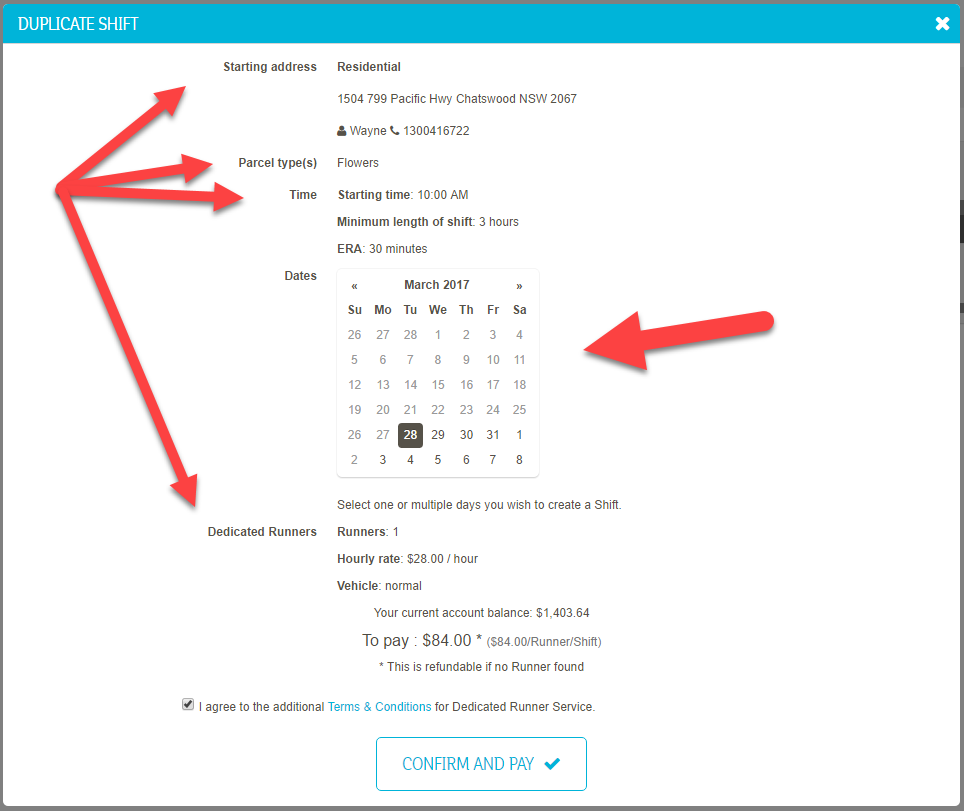 As you can see, all the information you entered before has been re-entered on your behalf.
The only difference here is the 'Dates' section. By clicking on the days, you can add a shift, with the same details, on the day.
For example, you can duplicate the shift every day for a week, or perhaps you'd like to create them for every Tuesday for the next month. Click every day like an on/off button to get your desired schedule:


When you're happy, just click on 'Confirm And Pay' down the bottom. Your calendar will now display your new shifts (let's say you've chosen to duplicate your shift for every Tuesday of next month):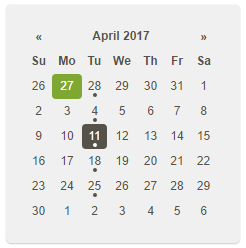 Now that your shift is booked, don't forget to upload your jobs before your cut-off time (the earlier the better)! To know more about bulk upload check our Knowledge Base article on the subject.
Last but not least, make sure you've read the additional terms & conditions that come with using GoSHIFT.
Nick Hartman is the Marketing and Communications Manager for Go People. The prospect of seamless, same day deliveries excites him and he hopes Go People will one day achieve that. Outside of making the delivery world a better place, you can often see him down at the SCG taking high class photos for his Instagram page.