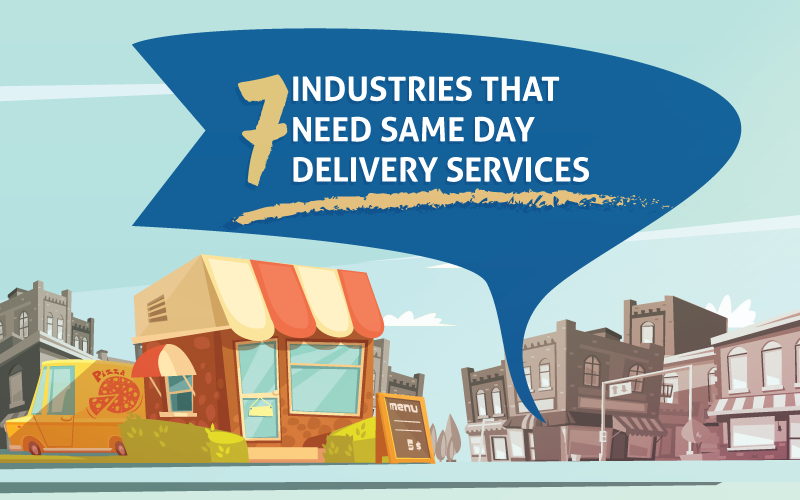 In the fast-paced field of logistics and supply chain, it is crucial for goods to be delivered on time or even earlier for a smooth and streamlined process of delivery from point A to point B. And with the continuous advancements in technology across all industries, we are now entering a more rapid environment where same-day delivery services are in high demand.
To keep up with this demand, a growing number of businesses are looking to find a courier service that delivers. Statistics show that more than half of retailers (51%) already offer same-day delivery, while 65% of them have plans to introduce it within the next two years. From a different perspective, 49% of shoppers say they are more likely to shop online if same-day delivery is available.
Essentially, same-day delivery is set to revolutionise how we do our business in different ways. This is the reason businesses across different industries have started adapting to this trend by integrating the services of logistics providers.
Here are some industries that benefit greatly from a same-day delivery service:

7 Industries that Need Same Day Delivery Services
e-Commerce
E-commerce is widely considered as one of the biggest industries that benefit from same-day delivery.
More than half of online consumers (56%) between 18-34 years old expect retailers to have same-day delivery, with 61% of shoppers willing to pay more just to have same-day delivery. If two retailers offer the same product at the same price and one of them offers faster delivery, they are more inclined to go for that.
These reasons bolster the need for e-commerce businesses to have an effective system in place that offers fast shipping. You could integrate this during the busiest times of the year or even all year round to have an edge over the competition. This is also a great opportunity to deliver outstanding customer service.
Products with issues or those that didn't leave customers satisfied are expected, and the last thing customers want is to wait for long periods just for either a replacement or a refund.
A same-day courier service solves this problem by allowing you to get the product in question faster so that you can send out a new one or a refund the same way.
Food, Restaurants and Grocery Items
Food has been one of the most in-demand items for same-day delivery since people who have very little to no time to prepare their own food at home prefer to order over the phone or online. This is also crucial for restaurant owners who wouldn't want to sacrifice the quality of their food if it takes too long to reach their customers.
Grocery items have also entered the e-commerce trend, creating a need for a same-day delivery service to help folks who do not have the time to hit grocery stores and shop for food supplies.
When it comes to food, timing is everything. The key to growing your restaurant or grocery business is to provide a fast delivery service that doesn't sacrifice the quality and condition of your perishable products so that you can grow your customer base and eventually, your business.
Floral Industry
The floral industry is a multi-billion dollar business that has been growing. This has created a continuous demand not only for traditional logistics, but also a fast same-day delivery service that would have those gorgeous floral arrangements reach their destinations still fresh and vibrant to keep customers happy.
Manufacturing
Regardless of the types of products, companies in the manufacturing industry need a fast courier service, too. While this is not the usual need like those of retailers, they need it for other reasons, and one is immediately getting parts for machinery that breaks.
Production at a manufacturing plant can be put to a halt when a piece of equipment breaks down. This throws a wrench in the works, particularly when the plant needs to target high volumes nonstop.
With a fast delivery service, a replacement machine or part can be installed so that the company can get back up and running.
Health and Pharmaceutical Industry
It comes as no surprise that hospitals and other healthcare facilities need supplies quickly, which in worst cases are life-and-death situations. People's lives are at stake, so medication or pharmaceutical supplies should be administered immediately.
This is where same-day delivery becomes crucial in maintaining a patient's health, well-being, and even his or her life. Pharmaceutical companies that supply these life-saving drugs and equipment to provide patients faster service.
Medical Testing Labs
In conjunction with the health and pharmaceutical industries, medical laboratories need to process samples that need instant results—those that could help doctors determine the treatments for their patients. They are frequently kept in controlled environments, so transport and handling should be done in the quickest way possible.
Relying on a traditional parcel service will mean delays, lost items, and unclear delivery dates. With a person's health at risk, the only solutions is a same-day delivery service, so nothing is left to chance.
Law Firms and Offices
For those who aren't privy to the industry, they might find it odd that law offices have the need for a courier service. What they may not realise is there's a high demand for it due to the volume of parcels they need to send and receive on the regular. Instead of bulky packages, they use paper packets for documents.
These packets are regularly filled with agreements, contracts, court orders, wills, and other important documents, which are often needed to be read, signed, and delivered to several parties with deadlines to reach.
If they don't meet the deadlines, the consequences could lead to fines or worse, legal troubles. These are good reasons enough to need a fast and reliable same-day delivery service to make sure everything is in order.
Conclusion
There is no question that same-day delivery is necessary for industries that need a courier service to work, more so with businesses involved on this list. Their products and services are time sensitive, so making sure they deliver on or before the right moment can spell the difference between a failed action and a successful execution of their business process.