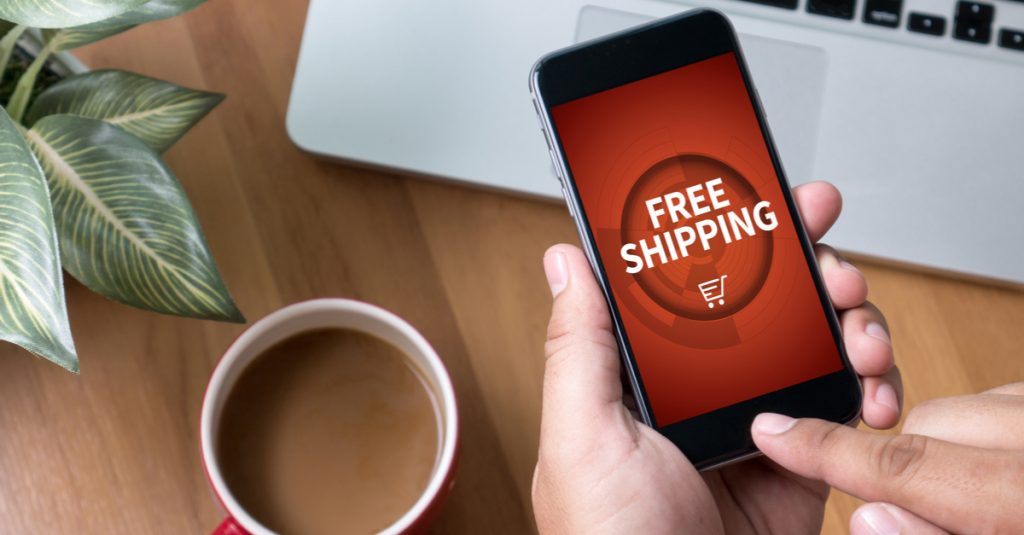 Consumers have spoken: They want a fast and free delivery service for goods that they buy online. Surveys and case studies indicate that:
Free shipping is critical to the purchase decision of 96% of consumers.
About 26% of shoppers are likely to buy from retailers that offer free delivery even if it means they'll be paying a bit more.
Free delivery service encourages 93% of consumers to order more items online.
Benefits of Free Shipping
Your e-commerce business can benefit from including free delivery service into your business strategy. Here's what can happen when you ship goods to customers for free.
More Return Purchases
When you make the free shipping option available to customers, it's easier for you to entice them to revisit your store in the future. The psychology behind it is that customers develop a perceived value to anything that's free.
In fact, you'll come across a lot of consumers who will choose to do business with a retailer that ships for free instead of another retailer that offers the same item for a lower price but charges customers for shipping.
More Items Ordered
Again, free delivery service conveys the idea that customers are getting their money's worth. Customers are then more likely to add more items to their shopping cart since they don't have to worry about paying additional fees to have more items delivered to them.
Free shipping is also a cost-effective way of clearing your inventory of small items. Just imagine, would customers believe it's practical to purchase a $5 item and pay an $8 shipping for it? Unlikely.
But, they may even be compelled to buy more things to maximise their perceived savings. You could use your free delivery policy as an opportunity to encourage customers to make those small purchases, which they wouldn't have bought otherwise if it meant paying for delivery costs.
Edge Out Competitors
You want your brand to be top-of-mind for consumers. When you have a free shipping policy, you are enhancing the shopping experience for your customers. It's a sure way to win your customers' hearts and make them loyal to your brand so they don't take their business somewhere else.
No More Abandoned Carts
Customers will be quick to discontinue the checkout process once they see that you're charging them extra with shipping or delivery costs. On the contrary, making shipping free for buyers increases your chances of closing a sale with them, thereby preventing shopping cart abandonment.
Things to Ask Yourself Before Offering Free Delivery Services
Offering free delivery to customers isn't as simple as you want it to be. You'll want your service to be fool-proof for customers and cost-effective for your business.
Ask yourself:
Can I afford it? Free shipping doesn't come without costs for your business. Do you have the resources to make it happen? Determine your profit margins and operational budget. Some of your products might not be giving you enough profit to cover the cost of shipping, but there might be other more profitable items in your lineup that could easily offset your shipping costs.
What type of free shipping am I going to offer? There are two kinds of free shipping, namely conditional free shipping and unconditional free shipping. As the name implies, customers have to meet certain conditions to qualify for the first option, including a minimum order value or purchase of select items only. The second option is absolutely free regardless of the type, number, or size of the order.
How do I go about it? To help you choose the best shipping method for your business, you also have to study what your competitors are doing. Are they investing in their own fleet of delivery vehicles or are they leaving the work to professional courier companies? These things can help you develop a plan that is suitable for your overall business strategy.
How to Have an Effective Free Delivery Service
At this point, you need to think about how your business can implement a free delivery service efficiently. Here are some tips to get you started:
Run a trial period. Offer a free delivery service to your customers for three or four months. While the service is on trial, you could watch out for the conversion rates of your site. Are you getting new customers, or do you see an increase in your online sales? If so, it's important to determine if discontinuing the free delivery service would cause the numbers to go down.
Hire the services of fulfillment centers. You could send your merchandise to fulfillment centers, who will handle your products' inventory, packaging, and shipping requirements. You can also partner up with courier companies that offer express or same-day delivery service for low fees. These third-party delivery companies can be helpful in reducing the distance, time, and cost that it takes to deliver your customers' packages to them.
Free Shipping as a Business Strategy
Competition in the business industry is becoming more and more intense. This should inspire you to innovate and improve your processes to attract and retain customers. With the rate that free delivery service is catching on these days, it's crucial for your brand to start offering this option and implementing it in your business.